On October 23, 2020, the "Polaris Cup" 2020 photovoltaic influence brand selection and awarding ceremony ended in Beijing. After fierce competition, Wuxi Longma Technology stood out from many shortlisted companies and won the 2020 Impact Photovoltaic EPC/Owner Unit Blockbuster Award, which fully demonstrated the brand influence of Wuxi Longma Technology.
Founded in 2002, Wuxi Longma Technology Co., Ltd. is an innovative high-tech company integrating investment, new energy, and intelligent manufacturing. The company is positioned as a professional solar photovoltaic application technology service provider, committed to providing overall solutions for solar photovoltaic application technology and a "full life cycle" one-stop service company. The company's main business: power station convergence and grid-connected products, power station asset investment and management, energy storage and "photovoltaic +" application products. Longma Technology has established 5 branches in the world, serving more than 1,000 global customers, and its products are sold to more than 50 countries and regions around the world.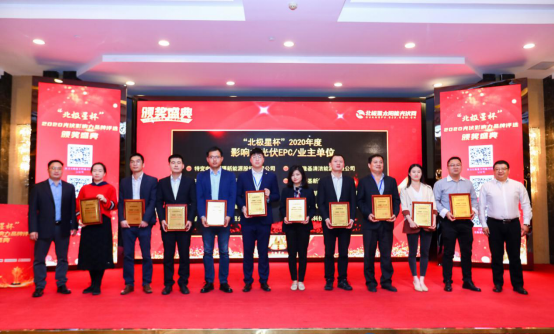 Wuxi Longma New Energy Co., Ltd. is a wholly-owned subsidiary of Wuxi Longma Technology Co., Ltd. Longma New Energy is a national high-tech enterprise integrating consulting services, R&D and design, manufacturing, construction and operation, project declaration, etc. It has a provincial-level "Solar Photovoltaic Application Technology Engineering Center", focusing on the research and development of solar photovoltaic application technology. The most cutting-edge products and technical solutions. The company actively responded to the call of the Wuxi Municipal Government to "Entry Photovoltaics into Wanjia" and launched the "Wanjia Photovoltaic Wanjiafu" activity to vigorously promote distributed rooftop solar power projects.

Longma Technology won the "Polaris Cup" 2020 Influence EPC Brand Award, not only the industry's high recognition of Longma Technology, but also demonstrates Longma Technology's strength in photovoltaic power station investment and construction. Longma Technology will continue to provide customers with high-quality, high-reliability, and cost-effective photovoltaic products, actively promote the popularization of photovoltaic green energy applications, and strive to improve the ecological environment where we live together and benefit thousands of households.
Good power station · Made by Longma · Good brand · Use with confidence